Hits: 346
Get ready to conquer the Google search engine
SEO is the bottom line of digital marketing that if you work online or are interested in related topics, you should take the time to learn it. Follow BakuTime.com.

You've probably heard a lot of sentences (or similar):
"You have to invest in SEO."
"You are invisible; "If you're not on the first page of Google, there's no point in being online."
"Why not bring an SEO to take responsibility for optimizing your site for search engines?"
"If a site appears on the first page of Google when searching for a word, it's because of a number of techniques. "The name of these techniques is SEO."
"Algorithms have changed. Caffeine? Panda? Hummingbirds? Pigeons? Deep Mind system?
"We can bring you to the first page of search engines. "You can be sure that this is your most logical investment."
Our main goal is to introduce complementary friends to the general aspects of SEO and some of the most basic SEO techniques. This way, they can manage simple and basic SEO tasks for their sites or blogs, and if they are interested, they can pave the way for more SEO learning and learning.
What does SEO mean?
SEO means Search Engine Optimization, which can be translated as search engine optimization. Of course, SEO itself is very widespread in Azeri, and sometimes they use additional and descriptive combinations and current expressions (for example, SEO improvement, SEO).
The purpose of SEO methods is to give users a better ranking of articles and content on the site when users search on Google and other search engines.
Definition of SEO and a few tips about it
While it doesn't seem important to emphasize the importance of SEO, it's not bad to look at some published statistics about search engines.
Naturally, the statistics provided by different sources may be different depending on the research method; Thus, instead of focusing on the exact amount of numbers, it may be better to focus on their scale and relative importance:
People use search engines 6-7 billion times a day ( source ).
70-80 percent of searchers do not look at search engines, including links advertised by Google (paid).
By clicking on the link in the search engine, the person entering your online space will cost less than the person you go to marketing to become a customer.
Mobile search has been on the rise in recent years, and since 2015, mobile search has surpassed desktop search. Also, the share of desktop computers among the means of connecting to the Internet worldwide is less than 50% ( source ).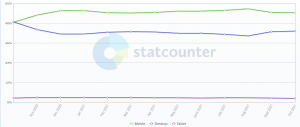 What search engines are currently used the most?
There are many people who use search engines and Google as synonyms.
Of course, this cannot be simply criticized; Because even Google is perceived as a verb in English.
However, to consider that Google is not the only player in the search industry, it may be appropriate to refer to two reports published by the authoritative Search Engine Land: GIF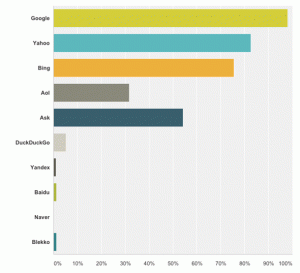 What is clear in the answer to this question is that users are aware of brands.
As you can see, Google, Yahoo and Bing search engines are more popular among users than other search engines.
In another question, users are asked to indicate the main search engine they use: GIF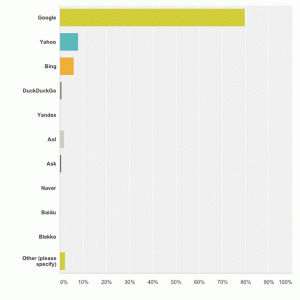 As you can see here, Google has a significant gap with other search engines, and therefore, perhaps still – until there is a significant change in the market share of search engines – we must accept that it is used as a search engine and Google. Synonymous terms are not so wrong.
The role of SEO in improving the quality of content in recent years
In the past, vulnerabilities in search engine algorithms have led to a general interpretation among content creators. They said: There are two ways to write on the Internet. You can write for users and visitors to your site, and you can write for search engines.
Writing for search engines is like building meaningless text, inserting keywords into text, giving useless links, forcing users to click, and so on. had to say.
Writing for users, while convincing visitors, does not necessarily lead to better search engine rankings.
Fortunately, in recent years, with the improvement of search engine algorithms and the development of artificial intelligence and text analysis, such cases have been declining.
A little research will convince you that adhering to the principles of Search Engine Optimization and the standards set by search engines can increase the satisfaction of your readers and users as you improve the SEO of your site.
Also, trying to increase user satisfaction will usually help improve your search engine rankings.
Needed: What is the Asp.net programming language?
For this reason, unlike in previous years, if search engines were blamed for the declining quality of content production on the Internet, today such descriptions are rarely heard and used.