Hits: 11
According to "Student International", Real Madrid will play tonight in the group stage against Shakhtar Donetsk. The club is looking to win to make history in the Champions League. Real Madrid, nicknamed the King of Europe, has been named the tournament's proudest team and could reach a record 1,000 goals tonight at the Bernabeu.
Any player who scores Real Madrid's first goal tonight will go down in history; Like Real Madrid's first goal in the competition, scored by Miguel Monoz in the first round of the European Club Cup, to the 900th goal that Cristiano Ronaldo scored in 2017 against Bayern Munich in the quarter-finals of the Champions League.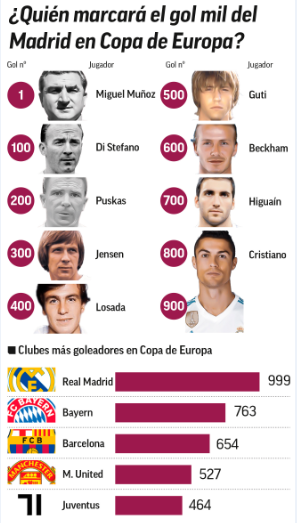 Of course, Ronaldo also scored Real Madrid's 800th goal in the group stage against Copenhagen in 2013. The 700th goal was scored by Gonzalo Higuain in 2010 against AC Milan at the San Siro. David Beckham scored the 600th goal in 2004 in a draw in Marseille. Gotti was named the 500th goalscorer against Sporting Lisbon in 2000.
The 400th goal was scored by Losada in 1991 against Swarovski of the Austrian Tyrol. Jensen scored 300 goals in the 1978 match against Real Madrid against Progres Niederkorn in Luxembourg. François Pusks scored the 200th goal for Real Madrid against Feyenoord in 1965, and Alfredo Di Stéfano scored the 100th goal in 1959 against Barcelona.
In this list, after Real Madrid, the name of Bayern Munich is in the second place with 763 goals, and this team is also far away from the whites at the moment. Barça with 654, United with 527 and Juve with 464 goals are next.
Cristiano Ronaldo is Real Madrid's all-time leading goalscorer with 106 goals, followed by Ral (66), Karim Benzema (61), Di Stéfano (49), Pusks (35), Gento (31) and Santiana (21). Amancio (21), Fernando Morientes (19) and Pierre (18).